Original Magic Art Coupons & Promo codes
Saving tips on Original Magic Art
Sign up to get Original Magic Art coupons
Don't skip the newsletter box if you're a new customer at Original Magic Art. If you want to receive a 10% coupon code, just enter your email there to sign up for their newsletter. It's totally free!
Besides, they will send you many special offers, free giveaways, and once-in-a-lifetime deals to your inbox.
You can enjoy this offer one more time if you use 2 different emails.
Enjoy Original Magic Art rewards
Create your account to unlock many Original Magic Art rewards. For every task you complete, you'll earn points.
- Make a Purchase: 5 Points per $1.00
- Create an Account: 500 Points
- Refer a Friend: 500 Points
- Follow OMA on Twitter: 100 Points
Original Magic Art return policy
You can return a purchase if you encounter any problems with it. Their return policy lasts 30 days. If 30 days have gone by since your purchase, unfortunately, they can't offer you a refund or exchange.
To be eligible for a return, your item must be:
- Unused
- In the same condition that you received it
- In the original packaging
Original magic art - The best card game in existence
Original Magic Art is dedicated to the art of Magic the Gathering, the game itself and fans of both. Original Magic Art provides a home for the community of Magic players and art collectors to share their passion for the game and the illustrations that bring it to life. From artist interviews to collections of original Magic paintings, they strive to provide new and engaging content for everyone interested in the art of Magic the Gathering.
Relic - Brick Counter: Custom designed with Magic players in mind, this Brick Counter brings the game to life with its unique design and burnished bronze finish. This Relic was designed as a Brick Counter but can also be used as a Landmark counter.

Angel Playmat by Pieter Bruegel the Elder: Angel Playmat featuring the artwork "The Fall of the Rebel Angels" by Pieter Bruegel the Elder, painted in 1562. Their playmats bring these classic works of art to life and are made with the finest materials. Protect your cards and step up your game with their Classic Art Playmats.

Angel Token (4/4) by Liz Danforth: It is illustrated by Magic Artist Liz Danforth. This Token was created by Liz in an effort to bring her amazing artwork to the battlefield. With dimensions: 2 1/2" x 3 1/2" and Smooth Finish, it is the good choice for Perfect Fit Sleeves.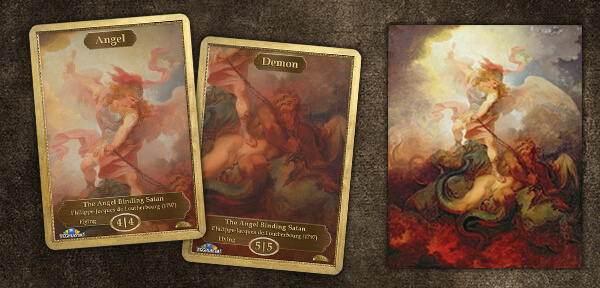 Original magic art store works hard to provide amazing prices every day of the year, because they know that's what you want. To do so, they have optimized their manufacturing processes extensively and they pass the savings onto you! Original magic art can be found for the lowest price available by purchasing it directly from the manufacturer's coupon code. You are offered Original magic art coupon code of 20% off right now. If you're ready to make your life more interesting, go to Original Magic Art store and order wonderful products right now!