Ghostbed Coupons & Promo codes
Frequently Asked Questions (FAQ) on Ghostbed Coupons
💰 How much can I save with Ghostbed Coupons & Promo codes?
You can save an average of 15% at checkout with one valid coupon.
⌚ How often do they release new coupon codes?
New coupons will be released throughout the month. You can especially find great coupons on big holidays like Black Friday, Halloween, Cyber Monday, and more.
🛒 What is the best valid coupon that you can use?
To save your time, top 3 first coupons are usually verified by our team:
Take 33% off your first full-priced order!
BLACK FRIDAY SALE: UP TO $540 IN SAVINGS (INCLUDES 4 GHOSTPILLOWS)
First Responder Discount - 15% Off Any Order

📩 Can I submit a Ghostbed Coupons & Promo codes?
We accept coupon code submissions for many stores. Please see our
Contact Page
for more details and to submit your discount. Thank you very much!
😃 Can I use more than one Ghostbed Coupons & Promo codes for my order?
You can only use one coupon code per order. You should apply the code that gives you the best discount.
Mattress comparison: Ghostbed mattress vs The Casper mattress
If you are finding an excellent mattress for better sleep and better health, here are some points that help you can choose the best one.
Design
The Casper mattress and The Ghostbed mattress all provide adequate support, comfort, and temperature control.  Casper uses 4 layers: breathable foam, memory foam, zoned transition foam, and support foam. As a result, Casper just carries up to 450 lbs of weight while the design of Ghostbed mattress including 3 layers: aerated latex foam, gel-infused memory foam, and foundational foam, gives the extra support and durability and carries up to 750 lbs of weight.
Comfort
Casper mattress provides medium firmness, but the experience depending on the weight of the sleeper. The heavier the weight, the greater the sinkage. Ghostbed feels slightly firmer at first but still capable of meeting various sleepers' standards. It will adjust the foam to conform to your body to relieve pressure points.
Motion transfer
Ghostbed feels more responsive than Casper. For people who adjust their sleeping position often or who want a mattress that's best for sex, Ghostbed is a good choice.
Return & Warranty
Casper has a very simple return process. When your order is delivered, you have 100 nights to try out the mattress. Ghostbed has a similarly straightforward return process with 101 nights to test the mattress. If within that period you decide it doesn't fit you for any reason, then just contact them to return. However, while Ghostbed offers 20 years warranty, Casper warranty only lasts 10 years.
Price
Casper is the slightly more expensive of these two with the Queen and King size mattresses than Ghostbed. Besides, Ghostbed gives you a chance to save up to $799 going with Ghostbed coupons and Ghostbed promo codes for shoppers to reduce your out-of-pocket cost while Casper doesn't.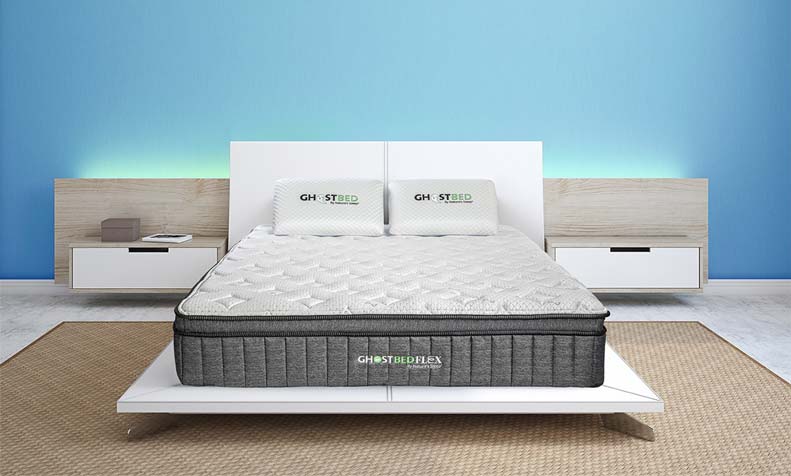 According to comparison, Ghostbed brings customers a better experience at an affordable price than Casper. GhostBed is one of the few beds out there that uses a combination of memory foam and latex foam helping you have a deeper sleep after a working day and a better mood for the next morning. With a lot of Ghostbed coupons, do you want to miss this chance? Take action now!!